See What Lies Beyond the Expected
The allure of Motswari Hideaways is in its simplicity, with the 'frills' being the sensory experience that awaits you. It's a place to be present in every moment with the smells, sounds and sights of the bush blocking out those intrusive daily stressors we know too well.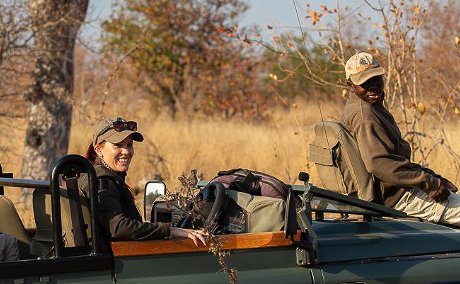 Daily Game Drives
During your stay, experience two complimentary daily game drives taking you deep into the Timbavati Private Game Reserve. Our passionate guides know every tree, every spoor, and every resident in this piece of paradise. Instead of just showing you the Big 5, you'll focus on an animal's gaze, body language and behaviour, discovering the interconnectedness of the bush. On a Motswari Hideaways game drive, you're not just an audience viewing the bush through a lens, you're watching a sacred story unfold.
Click on the below links to find out more about what you can possibly see during your two daily game drives: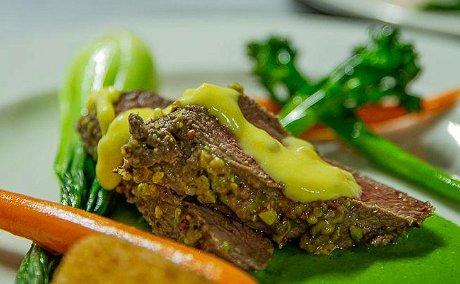 Dine at Motswari Lodge
While our camps are fully-equipped to handle all of your self-catering needs you may wish to celebrate a special occasion and dine at Motswari Main Camp, taking in the heritage of the game lodge atmosphere with chefs and waiters. Please note that this is subject to availability and reservations are essential prior to your arrival.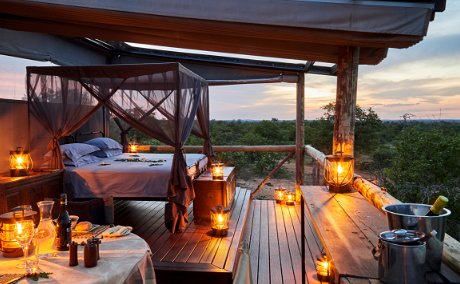 Giraffe's Nest Hide
Situated just a short game-drive away from Motswari Main Camp, a private under-the-stars experience for two awaits. Sleep out underneath the sparkling skies and the sounds of the bush below as you spend the night in a luxurious tree-house, overlooking the Xanatsi Dam. Open-air viewing of the skies is, of course, possible, yet be assured that the room is completely secure and extremely private, and if you'd like we can cover it with a retractable canvas roof. 
On your scheduled afternoon game drive you'll be dropped off at the dam by your guide, shortly before sunset. Here you'll be left to enjoy the tranquillity and privacy of this amazing location until the following morning when you'll be collected by your guide on your daily morning game drive.
Drinks and a delicious simple dinner will be provided. Adding to the comfort of this location, an eco-bathroom is available upstairs so there is no need for you to leave the platform above the landscape.
If you'd like to treat that special someone or celebrate an anniversary or birthday, Giraffe's Nest Hide can be booked during your stay at any of the Motswari Hideaway Camps for an additional R2,500.00 per couple, per night.
When making your booking at any of our self-catering camps, please do inform us should you wish to add this experience to your stay as it is subject to availability. Kindly email reception@motswari.co.za to enquire.