Welcome to Geiger's Camp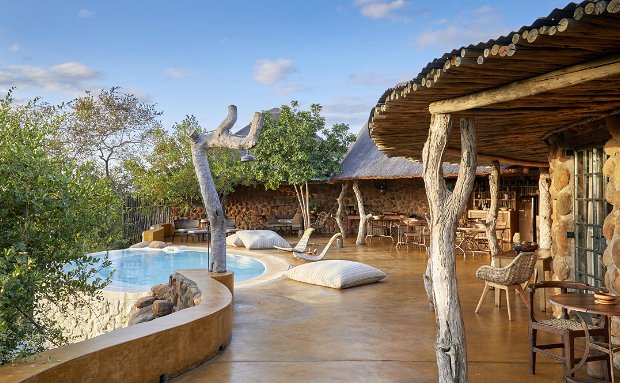 Listen to the sounds of the wild at Geiger's Camp and explore the magic of SA. Geiger's Camp offers beautiful views, friendly people, unique traditions and sensational offerings. Feel your stress melt away underneath the ever-present sun and sparkling night skies.
Geiger's is a perfect setting for an exceptional safari vacation in the Timbavati and Umbabat Private Nature Reserve. Perched on a ridge, Geiger's offers panoramic views of the Sharalumi River and Big Five terrain. Originally built as a traditional family house, Geiger's maintains a homely atmosphere.
Exclusively built from rock and stone, Geiger's comprises four private rooms, each with its own private deck overlooking the bush. This camp is ideally suited to families or small groups of up to eight people travelling together. Part of the charm of this camp is its deep sense of attention to detail, with each room having been uniquely and tastefully designed by Owners, Marion and Fabrice. You may notice Marion's stunning artworks hanging against the walls, bringing the splendour of the surrounding bush indoors.

What Your Stay Includes 
Explore unchartered wilderness adjacent to the Kruger National Park 
2 Scheduled daily game drives with a qualified Field Guide lasting 3 hours each, one in the early morning and one late afternoon returning at night for nocturnal animals and stargazing
Opportunity to experience the Big 5 
An exclusive, 5-star private home for up to 8 people 
Sophisticated finishes and furnishings - beyond what would be expected in a bushveld setting
Air-conditioning throughout the property
A Field Guide will be staying at the camp with you for the duration of your stay
A housekeeper will ensure that the house is kept clean for your comfort
There is a camp caretaker present at all times
Access to Motswari's airstrip, with the following coordinates:                                                        24°11'23.83"S
31°23'10.78"E
For more information on what to pack, and a list of food and beverage suppliers to contact prior to your arrival at Geiger's Camp, click here.